Since 01-01-2010 BFA is an official distributor of Eurotunnel. With 4 departures per hour and a transit time of 35 minutes, Eurotunnel is a highly efficient and reliable way to cross the Channel.
Want to know what the rates are or looking for other information regarding Eurotunnel then please fill out the contact form
When using this route the transportation conditions for Eurotunnel are applicable and accepted by you.
Take a look or download the Eurotunnel conditions here.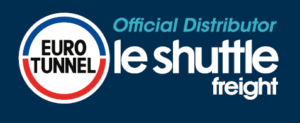 New dedicated lanes for Eurotunnel Border Pass
We are committed to provide the best quality of service for our customers; so in order to keep a smooth flow of traffic at our French Pit Stop, we are pleased to inform you that we are now offering new lanes dedicated for Border Pass users.
Drivers travelling with a Border Pass or an empty vehicle will now save time as they are able to proceed directly to one of these lanes which are clearly signposted on our French terminal.
Our UK Pit Stop will also soon be adapted to offer dedicated lanes.
Eurotunnel Border Pass is the fast, smooth and efficient way to cross the border.  It allows the necessary information to be passed from the hauliers to Eurotunnel and then to the relevant authorities in both countries, in a secure and digital way, on arrival at Check-in. Drivers no longer need to present their border documents at the Pit Stop as the information is already available in our systems.