Depuis le 01-01-2010 VIB est un distributeur officiel d'Eurotunnel. Avec 4 départs par heure et un temps de transit de 35 minutes, Eurotunnel est un moyen efficace et fiable de traverser la Manche.
Si vous souhaitez connaître les tarifs ou si vous souhaitez obtenir d'autres informations sur Eurotunnel, veuillez remplir le formulaire de contact.
En utilisant cet itinéraire, les conditions de transport pour Eurotunnel sont applicables et acceptées par vous. Jetez un oeil ou téléchargez les conditions Eurotunnel ici.
* Conditions générales de transport
* Transport de matières dangereuses
* Transport d'animaux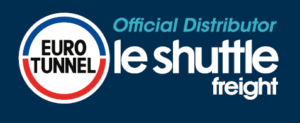 New dedicated lanes for Eurotunnel Border Pass
We are committed to provide the best quality of service for our customers; so in order to keep a smooth flow of traffic at our French Pit Stop, we are pleased to inform you that we are now offering new lanes dedicated for Border Pass users.
Drivers travelling with a Border Pass or an empty vehicle will now save time as they are able to proceed directly to one of these lanes which are clearly signposted on our French terminal.
Our UK Pit Stop will also soon be adapted to offer dedicated lanes.
Eurotunnel Border Pass is the fast, smooth and efficient way to cross the border.  It allows the necessary information to be passed from the hauliers to Eurotunnel and then to the relevant authorities in both countries, in a secure and digital way, on arrival at Check-in. Drivers no longer need to present their border documents at the Pit Stop as the information is already available in our systems.